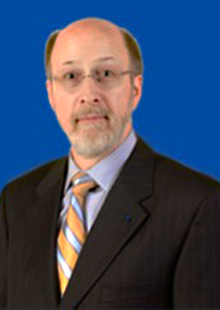 ABOUT

Professor and Steve W. Chaddick Endowed Chair in Electro-Optics, and Georgia Research Alliance Eminent Scholar

Dr. Russell D. Dupuis is the Steve W. Chaddick Endowed Chair in Electro-Optics and Georgia Research Alliance Eminent Scholar in the School of Electrical and Computer Engineering at Georgia Tech with a joint appointment in the School of Materials Science and Engineering.

Dr. Dupuis received his BSEE with highest honors-bronze tablet (1970), his MSEE (1971) and his Ph.D . EE (1973) from the University of Illinois at Urbana-Champaign. In September 1989 he joined the University of Texas at Austin where he established the Advanced Materials and Devices Group to study novel MOCVD processes and to grow device-quality heterostructure devices and quantum wells using MOCVD.

His most recent work involves the MOCVD growth of heteroepitaxial InAlGaN on sapphire substrates for lasers, LED's, photodetectors, and high-power transistors; the growth of InAlGaAsP-InP lasers; the growth of InGaAs-InP vertical-cavity surface-emitting lasers; and InGaAs -InP heterojunction bipolar transistors. In addition, he is exploring the III-V "native oxide" materials. His technical specialties include semiconductor materials and devices, epitaxial growth by metalorganic chemical vapor deposition, and heterojunction structures in III-V compound semiconductors.

Dr. Dupuis is a member of the National Academy of Engineering, the nation's highest honor for engineering professionals.
EDUCATION & AWARDS

Awards

IEEE Edison Medal, 2007
National Medal of Technology Laureate, 2002
The Minerals, Metals and Materials Society (TMS) John Bardeen Award, 2004
Distinguished Alumnus Award, College of Engineering, University of Illinois at Urbana-Champaign 2004
Licensed Professional Engineer, The State of Texas (2001)
Fellow of the Optical Society of America, 2000
University of Illinois at Urbana-Champaign Alumni Loyalty Award, 1997
IEEE/LEOS Award for Engineering Achievement, 1995
Elected to National Academy of Engineering, 1989
Distinguished Alumnus Award, Dept. of Electrical and Computer Engineering, University of Illinois at Urbana-Champaign, 1987
Young Scientist Award of the Gallium Arsenide and Related Compounds Conference, 1986
Fellow of the Institute of Electrical and Electronics Engineers, 1986
Distinguished Member of the Technical Staff, AT&T Bell Laboratories, 1986
IEEE Morris N. Liebmann Memorial Award, 1985
RESEARCH INTERESTS

Research Interests

Semiconductor materials and devices
Epitaxial growth by metalorganic chemical vapor deposition
Heterojunction structures in III-V compound semiconductors