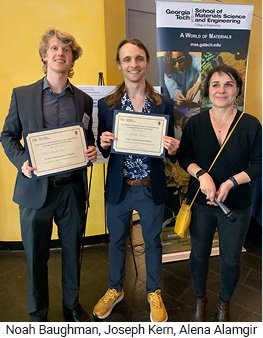 The Inaugural MSE 3-Minute Research Challenge Competition took place on Thursday, March 16 in conjunction with the MSE Graduate and Undergraduate Poster Competition in the Nano Building. Fifteen graduate students participated in the preliminary rounds of the competition, where two panels of judges narrowed the pool down to nine students to participate in the final round. Competing for cash prizes, the nine finalists had three minutes and one slide to explain their research to a panel of six industry judges drawn to select two winners.
Joseph Kern was awarded first place for his presentation "Using computers to rapidly and cheaply design recyclable plastics." Noah Baughman earned second place with his research about electronic biosensors for fast disease detection.
The other finalists were Daria Bukharina, Alexander Caputo, Haley Caroll, Milan Haddad, Danae Chipoco Haro, Diana LaFollette, and Aubrey Toland.