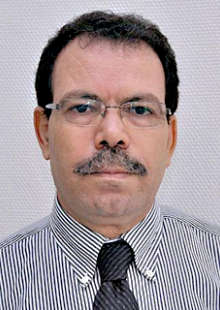 ABOUT

Adjunct Faculty Professor

Dr. Said Ahzi is a Distinguished Professor (Professeur Classe Exceptionnelle) at the Faculty of Physics and Engineering, University of Strasbourg – France. He holds an Adjunct Professor position with the School of Materials Science and Engineering at Georgia Institute of Technology (Georgia Tech.), Atlanta - USA. From 2014 to 2021, he was on unpaid leave from the University of Strasbourg and held several positions at Qatar Foundation: Principal Investigator at Qatar Environmental and Energy Research Institute (QEERI), Full Professor (joint faculty) at the college of science and engineering - Hamad Bin Khalifa University (HBKU), Acting Research Director of the Materials Engineering Group at QEERI, Acting Research Director for Computational Materials and Processes Center at QEERI, and visiting Professor at Texas A&M University at Qatar (TAMUQ).

From 1995 to 2000, he held the position of Professor (Assistant then Associate Professor) at the Department of Mechanical Engineering at Clemson University, SC, USA. Prior to this, he spent four years as Research Scientists/Lecturer at the Department of Applied Mechanics and Engineering Sciences at the University of California at San Diego (UCSD), CA - USA, and four years as Postdoctoral Research Associate at the Department of Mechanical Engineering at Massachusetts Institute of Technology (MIT), MA – USA.

His research and teaching interests include multiscale modeling of materials behavior (polymers, metals, biomaterials, nanocomposites …), microstructure-property relationship, materials processing, process modeling and simulation of microstructure evolution. He advised more than 35 PhDs and 25 Masters.
EDUCATION & AWARDS

Education

B.S. (1983), Materials Science, University of Metz, France
M.S. (1984), Mechanics of Materials, University of Metz, France
PhD (1987), Mechanics of Materials, University of Metz, France
Habilitation (1995), Mechanics of Materials, University of Metz, France

Awards

2022: Eugene Beltrami Award (Senior Scientist Prize) in Applied Mathematics and Mechanics