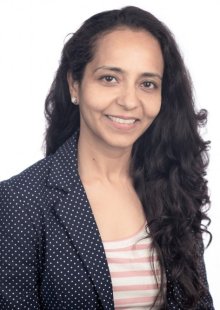 ABOUT

MaRC/GTMI/Callaway - Room 343

Dr. Himani Sharma received her Ph.D. degree in Chemistry (2006) from University of Delhi, India. She worked as a Research Associate in Electrical Engineering department in Alabama A&M University on NSA-funded project, before joining Georgia Institute of Technology as postdoc in Packaging Research Center in 2008. She was later promoted to a Research Scientist-II position as she continued her materials research. In her role as a Technical Leader for 3D-IPAC (Integrated passive and active component program) in PRC, she developed and drove technologies in partnership with companies in consumer and medical electronics. Her research focused on developing materials for next-generation passive components and susbrates.

She has authored more than 60 publications in international peer-reviewed journals and conferences. She has co-authored 1 book, 3 book chapters and 1 pending patent. Dr. Sharma transitioned to teaching undergraduates in School of Material Science and Engineering (MSE) at GaTech in July 2019. She is currently responsible for junior and senior laboratory courses in MSE.
PUBLICATIONS & PATENTS

Selected publications

BOOKS CHAPTERS AUTHORED

Fundamentals of Microelectronic Systems Packaging (2018)

Chapter Title: "Micro and Nanopackaging materials"

Authors: Himani Sharma, P. M. Raj, C P Wong, R. Das; Editor: Tummala, R. R

Publishers: McGraw Hill Publications

Materials for Advanced Packaging (2017)

Chapter Title: "Embedded Passives"

Authors: Himani Sharma, P. M. Raj, D. W. Lee, L. Li, S. X. Wang, P. Chakraborti, S. Jain, and R.

Tummala

Publishers: Springer International Publishing, 2017, pp. 537-588

Nanopackaging: From Nanomaterials to the Atomic Scale (2015)

Chapter Title: "Novel Nanostructured Passives for RF and Power Applications: Nanopackaging with

Passive Components"

Authors: P.M. Raj, P. Chakaroborti, D. Mishra, Himani Sharma, SK Sitaraman, R .Tummala

Publishers: Springer International

NANOMAGNETISM (2014)

Chapter Title: "Nanomagnetic Structures, Properties and Applications In integrated RF and Power Modules and Sub-systems

Authors: P. Markondeya Raj, Dibyajat Mishra, Erik Shipton, Himani Sharma and Rao Tummala

Publishers: One Central Press UK

Editors: Julina Gonzalez

Nanoelectronic Device Applications Handbook (2014)

Chapter Title: "Package-Compatible High Density Nano-Scale Capacitors with Conformal Nano-

Dielectrics"

Authors: Himani Sharma, P. M. Raj, P. Chakarborti, R. Tummala

Publishers: CRC Press (Taylor & Francis Group.)

Editors: James Morris & Krzysztof Iniewski

Book Title: Synthesis, Properties and Surface Modifications of CdSe Quantum Dots (2010)

ISBN # 978-3-8433-6362-4

Authors: Himani Sharma, Shailesh N. Sharma and S.M. Shivaprasad

 

PUBLISHED JOURNAL & CONFERENCE PAPERS

* Citations: 500+ (Google Scholar)

Journal publications: 40+ peer-reviewed journals
Conference paper: 20+ presentations and articles
* Publication list available at Himani Sharma's profile in Google Scholar
EDUCATION & AWARDS

Education

Ph.D., Chemistry - July 2007 - University of Delhi and National Physical Laboratory, New Delhi, India. Dissertation: Synthesis, Properties and Surface Modifications of Organically capped CdSe Quantum Dots
MS, Physical Chemistry - May 2002 - University of Delhi, New Delhi, India
BS, Chemistry - May 2000 - Dyal Singh College, University of Delhi, New Delhi, India

Awards

Won 2018-19 Research Faculty Teaching Fellowship (RFTF) Award at GaTech

Taught course in School of MSE @ GT

IEEE-ECTC 2011 Best Poster Award for paper entitled, "Conformal Atomic Layer Deposition (ALD) of Alumina on High Surface-Area Porous Copper Electrodes to Achieve Ultra-High Capacitance Density on Silicon Interposers" in ECTC conference, May-June 2011 Orlando, FL

CPMT 2011 ECTC Travel Award for paper titled, "Conformal Atomic Layer Deposition (ALD) of Alumina on High Surface-Area Porous Copper Electrodes to Achieve Ultra-High Capacitance Density on Silicon" in ECTC 2011

Patent Issued: Title: Systems and Methods for Fabricating High-Density Capacitors US Application Number: No. 12/435,971

Served as reviewer for several high-impact journals

Superlattices and Microstructures
Journal of Materials Science: Materials in Electronics
Nanotechnology
Semiconductor Science and Technology
RESEARCH INTERESTS

Research Interests

RESEARCH EXPERIENCE

Research Scientist- II (Sept 2012- Current)
Packaging Research Center
Georgia Institute of Technology, Atlanta, GA
Technical leader of the 3D Integrated Passive and Active Components (3D IPAC) Program

Lead material research in interposers and packages
Explore, develop and drive technologies in partnership with semiconductor and medical industry for manufacturing needs
Introduce newly developed technologies to commercialization for high volume manufacturing at low cost designs, materials, processes and tools

Postdoctoral Fellow  (Sept' 2008- Aug 2012)
Packaging Research Center
Georgia Institute of Technology, Atlanta, GA Principal Investigator: Prof. Rao Tummala
Research focus 

Develop passive component technologies focused on improved properties, miniaturization and cost compared to discrete components for digital, RF and medical applications
Synthesize and process nanocomposite and thin film functional materials for capacitors, inductors, antennas and EMI isolation

Research Associate (Sept' 07 – Jul' 08)
Alabama A&M University, Huntsville, AL
Principal Investigator: Dr. Zhigang Xiao
Worked on National Security Agency (NSA) supported project directed at fabricating transistors based on carbon nanotubes. The project aimed at better understanding the science of single walled carbon nanotube based devices.

Configuring CNT network of arrays by Dielectrophoresis
Fabrication of CNT based field-effect transistors and circuits

Senior Research Fellow National Physical Laboratory University of Delhi, Delhi, India (2002 – 2006)

Synthesis, Properties and Applications of semiconductor quantum dots
Electrochemical Growth and Characterizations of novel Semiconductor Nanofilms with efficient Photovoltaic applications