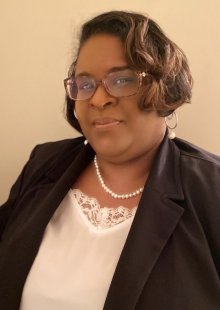 ABOUT

Academic Program Coordinator I

Staff Area:

ACADEMIC OFFICE - GRADUATE OFFICE

Staff Responsibilities:

GRA Hiring
Class Scheduling
Registration holds, permits and overrides
Textbook Ordering
Coordinate MSE BS/MS Program
Student visa processing and renewals
Commencement coordinator
Assist with Career Fairs
Transfer Course Evaluation
Grade Change Processing

Tia Williams has joined MSE as an academic program coordinator, supporting the graduate and undergraduate office programs. For the past five years, Tia served as the scheduler for the College of Arts and Sciences at Georgia State University. She worked closely with the course scheduling and curriculum management team coordinating course scheduling for multiple academic departments in collaboration with unit-level partners, and assisting with the curriculum management process, including working with faculty review committees and updating curricular data in the Banner system. Previously she served eight years as the academic coordinator for both the Department of Psychology and the Department of Geosciences at Georgia State University. In these roles, she worked in the areas of student support, advising, clerical support, event/ceremony planning, and budget maintenance. Tia received her Bachelor of Arts degree in Sociology from Georgia State University and her Master of Business Administration from Clayton State University. Tia has more than 13 years working in the university setting. She has demonstrated leadership strength, and developed a reputation for displaying professionalism and high levels of integrity. During her free time, she enjoys reading, traveling, listening to music, and spending time with her family.